For our next face-off we're going with tiaras that were gifted to the brides by their new in-laws. These can either be from the vaults, as today's is, or newly purchased. Let's jump in!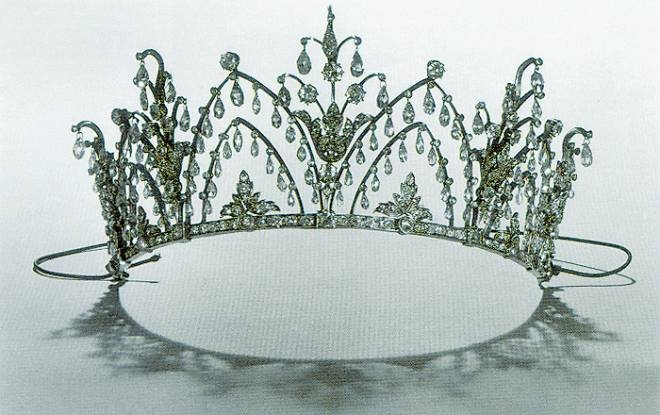 The History
This one entered the Danish vault around the turn of the last century courtesy of Queen Alexandrine. We're not sure of the exact provenance, some saying it was made in Paris around 1912, others saying it was Alexandrine's own 18th birthday tiara, but there's no solid evidence either way.
What we do know is that when Queen Alexandrine passed away in 1952 this tiara was inherited by her son, King Frederik IX. Six years later Frederik presented the tiara to Princess Margrethe as her 18th birthday tiara.
As usually happens, after King Frederik's death and Margrethe's accession this tiara was chosen less and less as the new Queen had access to the entire jewelry vault. But it was given new life in 1995, when Prince Joachim married Alexandra Manley. Alexandra wore this tiara on her wedding day, and for all tiara events afterward, as it was her only tiara.
The Case for the Tiara
OC: I like this piece on craftsmanship alone. In another community I had mentioned I thought it looked like water droplets on spider webs and I imagine it's difficult to achieve that using rocks. I appreciate its symmetry.
The Handbag: I love this. No one can tell me it isn't a beautiful, twinkly thing. I think it must be nestled in the hair, and when Alex was a princess she obliged us by doing so, often. It cannot be perched. That ruins it.
The Case against the Tiara
LiL: Not a fan. I mean, it's okaaaay, but there are others out there that do a much better job of looking like water droplets on spider webs.
LG: It's pretty enough, but once I read "water drops on spider webs" I was done… Any tiara described as looking like spider webs is no tiara for me. Although, Alexandra wears it extremely well.
So…what do you guys think?